Double Degree in Luxury
Discover the new challenges of communication in the Luxury market
Face-to-face training at :
Shanghai
Next school year: September/October 2023
› 6 months of academic learning
› 6 months of work placement
Key features
Training objective(s) :
Whilst mainstream media, PR and storytelling continue to play an important role, sponsorship and new luxury marketing tactics have developed considerably. Furthermore, special events management has become an essential factor in luxury communication.
Learning how to manage tradition and modernity while integrating the latest trends in social media, participants will develop an acute vision, the ability to seduce tomorrow's tech savvy luxury consumers, and learn the most advanced digital tools from China: Internet of Things (IoT), experiential retailing, etc.
Designed by EFAP and ESSCA professionals for professionals, our double degree luxury MBA offers a response to the increasing demand from luxury companies for managers capable of adapting to the most recent international changes in communication and marketing.
Key expertise in digital communications: Our participants acquire high-level knowledge in the most up-to-date digital strategies and tools, which are crucial nowadays for luxury companies
Program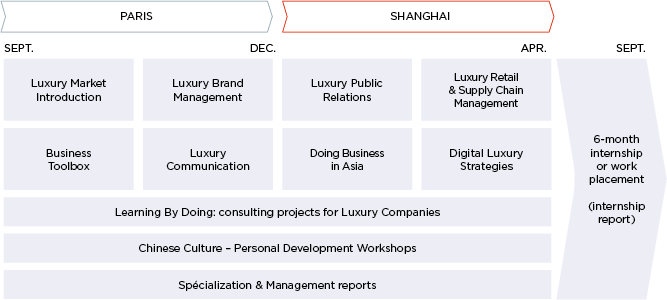 EFAP & ESSCA courses in Paris (225h)
Luxury Market Introduction
› Luxury fundamentals and codes
› Consumer behavior
› CSR & sustainability
Luxury Brand Management
› Sectorial strategy
› Consumer research
› Luxury & Innovation
› Luxury branding
Business Toolbox
› Business management
› Business law
› HR & personal development
Luxury Advertising & Communication
› Advertising strategies
› Storytelling and luxury goods
Chinese language
EFAP & ESSCA courses in Shanghai (225h)
Luxury Public Relations
› Events management
› Press relations
› « Artketing »
Luxury Retail & Supply Chain Management
› Luxury store concepts
› E-commerce and digital MKG
› Distribution strategies
Doing Business in Asia
› Cross-cultural management
› Chinese market environment
› Luxury markets
Digital Luxury Strategies
› Digital transformation
› Social media
› Digital Battle
Company project
Full English Track
› Pass rate for certification (2022 prom): 98%
› Job placement rate after 6 months (2021 prom): 89%
Career opportunities
Participants taking our double degree in luxury communication come from a large horizon:
Master's Degree graduates wishing to specialize for one more year in a luxury communication and strategy curriculum
Professionals in the luxury goods sector aiming to accelerate their careers
Students or professionals with experience from other sectors wishing to switch across to the luxury goods industry
In practical terms, our luxury executive MBA prepares our graduates for a wide range of positions after some industry experience :
Product
› Product Manager
› Category Manager
› Project Manager

Retail
› Store Manager
› Merchandising Manager
› In-Store Training Manager
› Regional Retail Manager
› International Sales Manager
Marketing and communications
› Communications Manager
› Marketing Manager
› Digital Communications Manager
› PR Manager
› Strategic Planner
› Advertising Executive
› Events Manager
› Corporate Philanthropy / Sponsorship Manager
› Brand Manager
› Junior Consultant
Testimonials
"Thanks to this partnership between EFAP and ESSCA, I had the amazing opportunity to move to Shanghai, to learn about the luxury industry and meet tje most important players of this sector. Fast growing and very active, Shanghai is the new best destination to work in the luxury field."
Carole M. - EFAP
"Unforgettable experiences, tailor-made support, the development of an expertise through projects for the most prestigious Maisons such as Louis Vuitton and Jaeger-LeCoultre. This program has it all, and I am proud to be part of it."
Christopher L. - ESSCA
Admission conditions
To be eligible for the Double Degree, you must hold a Master's degree (4 or 5 years of undergraduate studies) :
Schools of Management, communication, engineering, political sciences, etc.
Higher education Master's degree (in sciences, management, economics, languages, etc.)
Professionals with a significant career path and work experience are also allowed to apply for the Specialized MBA.
The intake process for our luxury executive MBA happens in two stages:
Eligibility: Application files are first screened by the applicant eligibility panel.
Acceptance: A selection interview with the course director and a professional lecturer.
Personalized meetings
Discover our specialized MBA from a different perspective!
To register, please contact :
Shayan TRANDAFIRs.trandafir@groupe-edh.com
+33 1 76 40 10 46